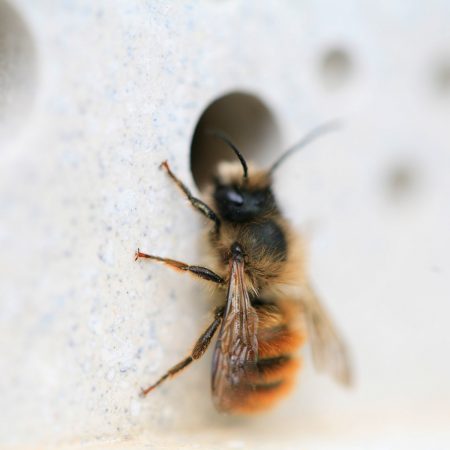 Green&Blue are based in the beautiful seaside town of Perranporth in Cornwall, UK. We were started in 2005 by husband and wife team Kate and Gavin Christman.
After years working at Dyson and designing in their spare time, Kate and Gavin created the Birdball and moved down to Cornwall in 2005 to start the company.
Working from a garden shed for a few years the couple followed their passion of designing beautiful, stylish products that help wildlife.
Today they have swapped the shed for a studio and own workshop unit but that passion remains at the heart of everything they do.
Focused on innovation, simplicity of design and products that help us make the changes necessary to protect our environment for future generations.
BEE BRICK & BEEPOT
By having the Beepot mini in your garden, allotment or urban space you are helping the bees by providing a bee hotel nesting place for them so that they can continue with the vital pollination work they do.
Each Brick has cavities where the bees will lay their eggs, sealing the entrance with mud or chewed up vegetation. Offspring emerge in the Spring and begin the process of nesting again, repeating the cycle.
The beautiful BeePot or Brick makes a lovely gift for any lover of nature who also loves their garden but who doesn't want to compromise on style. It looks great whilst doing good for the bees too, win and win!
BIRD HOUSES
These beautiful ceramic birdhouse are inspired by the natural forms of birds nests. The Birdball provides a safe environment for nesting small birds, the hole is large enough to allow easy access for Blue tits, Coal tits, March tits and long tailed tits but small enough to keep out predators.
These birdhouses make an ideal gift, or treat for yourself, and look stylish in the garden whilst providing habitat for our much loved wild birds.
BIRD BALL & BIRD BELLE FEEDER
The innovative Birdball seed feeder™ provides garden birds with a varied and reliable source of food. Simple yet stylish design offers safe, year-round feeding for birds such as tits, sparrows, finches, woodpeckers and nuthatches.
The Birdball™ Belle bird feeder is the perfect way to feed small birds such as tits, sparrows, nuthatches and finches both large and small fat balls, fruit and kitchen scraps, it can even be used to hold nesting material such as wool.
It's unique design prevents damage to birds feet and beaks that can be caused by mesh and wire and deters larger birds and squirrels from stealing the food.